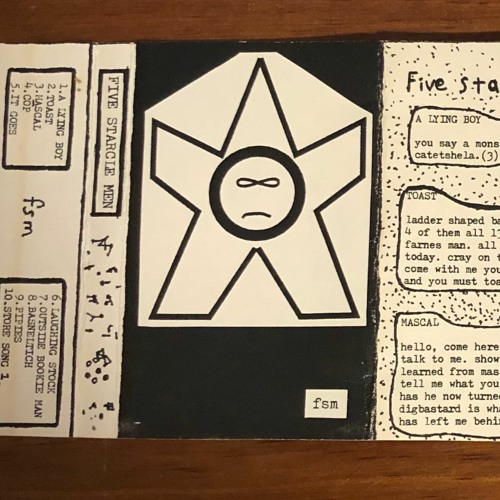 January 13th, 2021
Five Starcle Men
Sicicbral EP
It starts on the FSM Discord, where someone tries to contact an Instagram user that posted images of some tapes from Lancaster, that included lots of Five Starcle Men tapes. After joining, he posted more photos of the tapes and some books, that he doesn't have permission to make PDFs of. He asked Luke Mcgowan for permission to upload the tapes to the internet and he said yes, but he wouldn't post them all since he had a boxset with all these tapes planned.
And eventually... it arrived. The Soundcloud link and some more images he posted:
This tape isn't specifically Sicicbral, but another tape called "Gomblasemba Lumbieca". 🠛🠛🠛
This and other Lancaster tapes are on his SC account.
https://soundcloud.com/user-410047783
I'm back, again. Only that this time without the page redesign and making my biggest effort to have a varied structure on my posts, and maybe edit posts adding them more information than what they currently have. I'll also make a links tab on the main page. I said that I wasn't going to make new buttons, but i'll make them anyway.